1. Quick and Easy Meatloaf Recipe With Bread Crumbs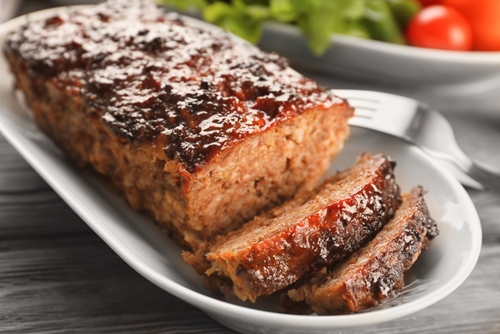 Ingredients
1 pound of ground beef (80/20 or 85/15 is best)
1 cup breadcrumbs
1 egg
1/2 cup milk
1/2 chopped onion
1/3 cup ketchup
1 tablespoon mustard
1 tablespoon brown sugar
salt and pepper to taste
Instructions
Preheat oven to 350 degrees F
In large bowl, mix ground beef, breadcrumbs, onion, milk, egg, salt and pepper. Use two hands and mix well.
In a separate small bowl, mix ketchup, mustard and brown sugar.
Lightly grease a shallow baking pan (13×9 is ideal), and shape beef mixture into a loaf. Cover with ketchup mixture and bake in oven for 45-55 minutes. Check with instant read thermometer. Internal temperature should be 160 degree F.