1. Moroccan Vegetable Stew in The Slow-Cooker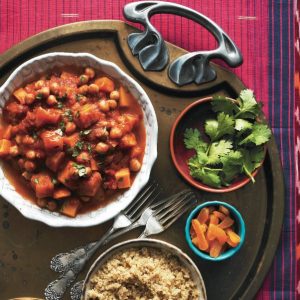 Yield: 6 servings
Prep: 15 minutes
Cook: 8 hours
Total Time: 8 hours 15 minutes
Ingredients
796-mL can

diced

tomatoes

1/2

large

butternut squash

, peeled and diced

1

large

sweet potato

, peeled and diced

1 tbsp

onion powder

1 tbsp

cumin

1 tsp

garlic powder

1/2 tsp

cayenne pepper

1/2 tsp

salt

540-mL can

chickpeas

, drained and rinsed

1 cup

sliced dried

apricots

1/2 cup

chopped

cilantro

, or parsley
Instructions
Combine tomatoes with squash, sweet potato and seasonings in slowcooker insert. Cover and cook on low until squash is tender, about 8 hours.
Stir in chickpeas and apricots during the last 30 min of cooking. Sprinkle with cilantro just before serving. Serve with couscous.
Recipe Notes
Raw onions and garlic can taste unpleasantly acrid in a slowcooked dish. Onion and garlic powders are more reliable.