1. Vegetable Beef Stew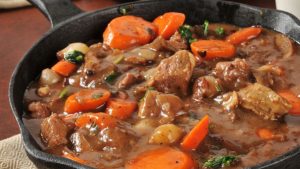 Ingredients
2 tbsp grape seed oil
1 medium onion, chopped
1 cup carrots, diced -about 3/4 inches dice
2 cups sweet potatoes, diced- 1/4 inch dice, leave skin on for more nutrients
1 cup parsnip, diced- about 3/4 inch dice
1 cup sliced celery stalks
1 tsp salt
1/3 cup tomato paste
1/2 cup dry white wine
1/2 cup parsley
1 tbsp ginger (best if freshly ground)
1 1/2 lb lean stew beef
pinch of freshly ground pepper
1/2 cup chopped parsley
Instructions
In a large skillet, brown the beef on all sides.
In a large pan, heat the oil and sauté the onions, carrots, sweet potatoes, parsnip and celery, stirring occasionally for about 15 minutes. Add the beef, salt and pepper to the pan and stir all ingredients.
Stir in the tomato paste, wine and ginger. Cover the pan and simmer on low heat for about 90 minutes to 2 hours, stirring occasionally to prevent scorching, until beef is very soft.
Serve sprinkled with fresh chopped parley.