1. Beef and Root Vegetable Stew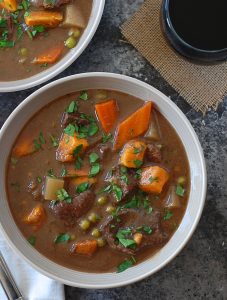 Ingredients
2 – 2 1/2 pounds beef chuck, cut into 2-inch cubes
1/4 cup all-purpose flour, divided
Kosher salt and freshly ground black pepper
2 tablespoons plus 1 teaspoon vegetable oil
1 onion, diced
1 clove garlic, minced
2 tablespoons tomato paste
1 cup red wine
4 cups low-sodium beef broth
1 bay leaf
1 teaspoon minced fresh thyme
1 large sweet potato, peeled and cut into bite-sized cubes
1 large turnip, peeled and cut into bite-sized cubes
4 carrots, peeled and cut into bite-sized chunks
1 cup frozen peas
2 teaspoons cornstarch
Instructions
Put the beef in a large bowl and sprinkle with 3 tablespoons of the flour, 1 teaspoon salt, and 1 teaspoon pepper. Toss to coat.
Heat 2 tablespoons of oil in a large, heavy-bottomed pot or Dutch oven over medium-high heat. Add 1/3 of the beef in a single layer and cook, without stirring, until the bottom is nicely seared, about 3 minutes. Using tongs, flip the cubes over and sear the other side, about 3 minutes more. Transfer to a bowl and repeat twice more with the remaining beef. (Be careful not to crowd the pot or the meat will steam. You don't need to sear every side, just the top and bottom.)
Add the remaining teaspoon of oil to the pot. Add the onion and cook until softened and translucent, about 3 minutes. Add the garlic and cook until fragrant, about 30 seconds. Stir in the tomato paste and remaining tablespoon of flour and cook, stirring, for 1 minute.
Stir in the wine and scrape up any browned bits from the bottom of the pot. Add the beef broth, bay leaf, and thyme. Stir in the beef cubes and any accumulated juices. Bring to a boil, then reduce the heat and simmer, uncovered, for 1 hour.
Add the sweet potato, turnip, and carrots to the pot. Cover the pot with a lid and simmer until the vegetables are fork-tender, about 45 minutes. Remove and discard the bay leaf. Stir in the peas and cook until heated through about 2 minutes.
In a small bowl, stir the cornstarch with 2 tablespoons of water until smooth. Add to the pot and simmer until slightly thickened, about 2 minutes more. Taste, and season the stew with more salt and pepper as needed.