12. Ratsherrenpfanne: German Vegetable and Mushroom Stew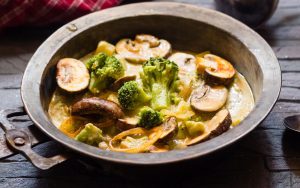 Ingredients
14.1 ounces Brown Button mushrooms
14.1 ounces broccoli
1 onion
1 tablespoon oil
1 2/3 cups vegetable broth
7 ounces coconut cream
2 tablespoons gluten-free flour
1 tablespoon tomato paste
Salt and pepper
Instructions
Peel the onion and cut them into rings.
Clean the broccoli and divide it in florets.
Clean the mushrooms and cut them into fine slices.
Heat the oil in a high pan and fry the onions and mushrooms.
Remove the mushrooms and onions and put tomato paste in the pan and fry it. Add the flour and stir it in well.
Add the vegetable broth and add the coconut cream.
Add the broccoli and boil everything briefly.
With the lid closed, simmer the stew for about 10 minutes until the broccoli is cooked.
Add salt and pepper to taste.