14. Korean Chicken Vegetable Stew (Jjim Dak)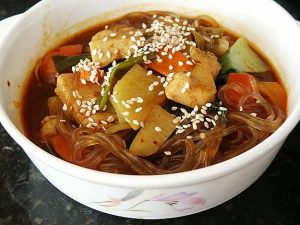 Ingredients
1 skinless and boneless chicken breast (you can use boneless chicken thighs or cut drumsticks, prefer)
2 cloves garlic, minced
1/4 Korean radish, cut into thin slices
1/2 onion, cut into thick slices
1 carrot, peeled and cut diagonally into thin slices
1/4 red bell pepper, cut into small pieces
3 green serrano chili, half
2 scallions, washed and cut into 2 inches length, separate the white and green parts
10 baby bok choy, washed (or spinach)
A small bunch of Korean sweet potato vermicelli (dang myun), soaked in warm water until soften, drained
1 Tbsp. toasted sesame seeds (as garnish)
Water to cover, about 3 cups
Sauce:
1 Tbsp. light soy sauce
1 Tbsp. premium dark soy sauce
1 Tbsp. mirin
2 Tbsp. brown sugar
1 Tbsp. Korean red pepper powder
1 Tbsp. gochujang  (Korean red pepper paste)
Instructions
Marinate the chicken breast with salt, white pepper, sesame oil, sugar and cornstarch.
Mix all the sauce ingredients in another bowl, set aside.
In a large saucepan, add in a little oil.  When hot, add in the chicken pieces.  Sealed and stir-fry until almost cooked.  Add in minced garlic and white part of scallion, stir-fry until fragrant.  Add radish and stir-fry for a minute.  Add water to cover and the sauce ingredients and let it boil.
When boiling, add in red bell pepper, carrot, onion, and green part of scallion.  Turn the heat to low and let it simmer covered for 10 minutes.
Open the lid, add in baby bok choy and dang myun, covered lid and let it simmer for another 5 minutes.  Open lid, give it a gentler stir to mix.
Pour into a serving bowl and garnished with toasted sesame seeds.  Serve immediately.  If not, only add the dang myun when you are ready to serve.