16. Rosemary Vegetable Beef Stew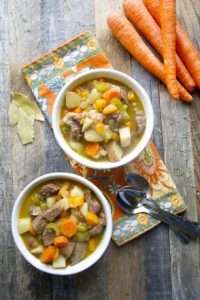 Yield: 4 servings
Prep: 30 minutes
Cook: 1 hours
Total Time: 1 hours 30 minutes
Ingredients
1 pound beef stew meat
1/8 cup flour (I used gluten free Bisquick)
2 tablespoons olive oil, divided
2 teaspoons minced garlic
2 small onions, chopped
1 medium sized sweet potato, peeled and chopped
4-5 small red potatoes, chopped
2 celery stalks, chopped
2-3 carrots, chopped
3.5 cups good quality beef broth
3/4 cup cooking sherry
2 teaspoons dried rosemary
1 teaspoon oregano
1 teaspoon onion powder
1 teaspoon garlic powder
1/2 teaspoon black pepper
1/2 teaspoon celery salt
1/2 teaspoon garlic salt
3 bay leaves
Instructions
Toss the stew meat and flour in a large ziplock bag until lightly coated.
Heat a large pot to medium heat, add one tablespoon of oil and lightly sear the stew meat. You may need to do this in two batches. You are not looking to actually cook the meat through, just sear it to give it additional flavor.
Remove meat from pan and set aside.
Add the last tablespoon of oil and add the minced garlic and chopped onion, sauté for about 30 seconds.
Add the meat and the rest of the vegetables.
Add the liquids and the spices.
Reduce heat to medium low, cover and let simmer one hour.
Remove bay leaves before serving.