17. Vegan Vegetable Barley Stew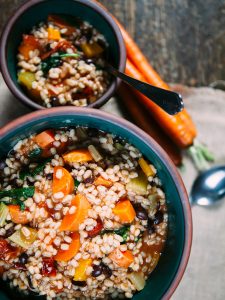 Yield: 8 servings
Prep: 15 minutes
Cook: 1 hour 20 minutes
Total Time: 1 hour 35 minutes
Ingredients
1½ cups uncooked barley
2 cups spinach leaves
1 cup cooked black beans
½ cup chopped sun dried tomatoes
2 carrot, chopped
3 stick celery, chopped
½ orange bell pepper chopped
½ yellow bell pepper, chopped
1 onion, chopped
2 cloves garlic, diced
2 tablespoons tomato paste
2 teaspoons cumin
¼ teaspoon sweet paprika
1 teaspoon black pepper
3 cups water
3 cups vegetable broth
Instructions
In a large pan sauté onions and garlic until soft.
Add all the other ingredients to the pan.
Bring to a boil and then turn heat down to a simmer.
Cook stew for 1 hour to 1 hour 20 mins. Until the vegetables are soft and the barley is cooked if stew becomes to thick for your liking you can add more vegetable broth or water.