20. Ciabotta – Easy Summer Vegetable Stew from Abruzzo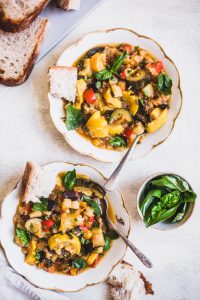 Ingredients
olive oil
1 yellow onion – chopped
pinch of red pepper flakes
sea salt
1 medium eggplant – cubed
1 red bell pepper – cubed
2 small potatoes – finely cubed
3-4 zucchini, summer squash, pattypan, etc. – sliced into ½" half rounds
3 cups cherry tomatoes – halved or quartered
2 garlic cloves – minced
juice from 1 lemon
basil – for garnish
Instructions
In a large pot, heat up a generous drizzle of olive oil over medium heat. Add the onion, a pinch of red pepper flakes and salt, and sauté for 5 minutes, until the onion becomes translucent. Add the eggplant, bell pepper, potatoes, ¼ cup of water, and another pinch of salt, and sauté for 10 more minutes, until the eggplant browns.
Add the zucchini, tomatoes, garlic, ¼ cup of water, and more salt. Cover the pot, lower the heat to a medium low, and let the vegetables steam for about 35 minutes, until they release their juices and melt together into a chunky stew, and the zucchini is cooked through. Mix the vegetables periodically while they are steaming, scraping up any brown bits that may form at the bottom of the pot. Add another ¼ cup of water if the mixture becomes too dry.
Once the ciabotta is done, mix in the lemon juice. Serve the ciabotta drizzled with more olive oil and garnished with basil. Enjoy on its own, or with good bread, polenta, rice, or pasta.