3. Lentil Stew with Winter Vegetables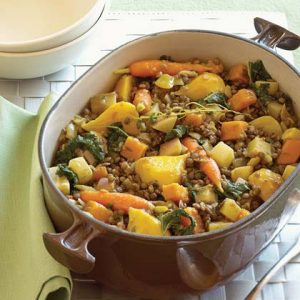 Yield: 4 servings
Time: 1 hour
Ingredients
2 tablespoons olive oil

1 medium onion, chopped

3 cloves garlic, minced

1 cup French green lentils

1 teaspoon salt

1/4 teaspoon freshly ground black pepper

2 sprigs fresh thyme

2 small turnips, scrubbed and cut into 1/2-in. cubes (about 1 cup)

1 bunch (about 5) baby golden or Chioggia beets, peeled (or 3 large beets, halved)

1 cup cubed butternut squash (1/2-in. cubes)

4 cups stemmed, chopped kale

1 bunch (about 5) baby carrots, trimmed and scrubbed

1/2 cup minced flat-leaf parsley

3 ounces aged goat cheese (such as Chevrot or Bûcheron, cut into small pieces)
Instructions
Heat olive oil in a medium pot over medium-high heat. Add onion and cook until translucent, about 3 minutes. Add garlic, lentils, salt, pepper, thyme, and 4 cups water. Bring to a boil, then reduce heat to medium-low. Add turnips, beets, and squash and simmer gently, stirring occasionally 20 minutes.
Add kale and carrots and cook 10 minutes, or until vegetables are tender and most of the liquid has been absorbed. Remove from heat and stir in parsley and goat cheese. Serve immediately, accompanied by crusty bread.
Recipe Notes
Semifirm aged goat cheese, available at most cheese counters, has an assertive flavor that pairs well with winter greens and root vegetables. Its firmer texture holds up well when heated.