5. Chicken and Vegetable Stew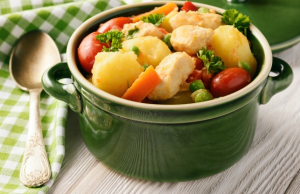 Yield: 6 servings
Prep: 15 minutes
Cook: 90 minutes
Total Time: 1 hour 45 minutes
Ingredients
1 tbsp Olive Oil
4 boneless, skinless chicken breasts, cut into bite-size pieces
1 onion, chopped
1/2 pound baby carrots
2 Celery Stalks, chopped
1 small can green beans
4 red potatoes, quartered (peeled or not)
1/2 teaspoon salt, plus a small amount for seasoning
16 oz Chicken or Vegetable Broth
1/4 teaspoon garlic powder
1/2 teaspoon ground black pepper, plus a small amount for seasoning
3 tbsp Cornstarch
Parsley, if desired
Instructions
In a large pot, heat the Olive Oil.
Season the chicken with salt & pepper.
Place the chopped chicken breast meat in the hot oil and cook through.
Place the chopped onion, carrots, celery, green beans and potatoes in the pot with the cooked chicken.
Cook until softened.
Add the salt, pepper, and garlic powder to season the vegetables
Add Chicken or Vegetable Broth
Cook for 1 to 1 1/2 hours on medium-low heat.
If stew is not thick enough for your preference, mix 1 tbsp of cornstarch at a time with a small amount of leftover broth until dissolved, and add it to the stew. I've added up to 3 tbsp of cornstarch if a batch is thinner than I'd like.
If serving with biscuits, break the biscuits into small bite-sized pieces and put on top of the stew.
May garnish with parsley, if desired.
Enjoy!