8. Winter Kale Vegetable Stew With Rutabaga Noodles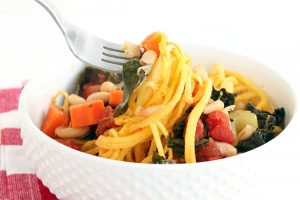 Yield: 5 servings
Time: 40 minutes
Ingredients
1 large rutabaga, peeled, Blade C, noodles trimmed
3 cups roughly chopped Tuscan kale
1 tablespoon extra virgin olive oil
½ cup diced sweet Vidalia onion
3 garlic cloves, minced
½ teaspoon red pepper flakes
1 cup carrot, diced
1 cup celery, diced
1 15oz can diced tomatoes
2 cups low sodium vegetable broth
1 15oz can cannellini beans, drained, rinsed
1 teaspoon thyme flakes
1 teaspoon oregano flakes
1 bay leaf
salt and pepper, to taste
¼ cup red wine
Instructions
Preheat the oven to 425 degrees. Line a baking tray with parchment paper and add in the rutabaga noodles. Spray with cooking spray and season with salt and pepper. Set aside.
Place a large pot over medium heat, coat with cooking spray and add in the kale. Tossing frequently, cook until wilted, about 5 minutes. Set aside on a plate and place pot immediately back over medium heat.
Add the olive oil to the pot. Once oil heats, add in the onions, garlic, red pepper flakes, carrots, and celery. Cook for 5-7 minutes or until vegetables softens, stirring frequently. If the vegetables stick to the bottom, add a few drops of water.
Add in the tomatoes, vegetable broth, cannellini beans, thyme, oregano, bay leaf, red wine, cooked kale, season with salt and pepper and stir. Cover, bring to a boil and then reduce heat to low and let simmer, uncovered for 20-30 minutes or until vegetables are tender and stew thickens, stirring occasionally.
Once the stew is simmering, place the rutabaga noodles into the oven for 15-20 minutes or until cooked to al dente. When done, portion into bowls and set aside.
Once stew is cooked, remove the bay leaf and spoon portions over the cooked rutabaga noodles. Garnish with parmesan cheese, if preferred.
9. Creamy Wild Rice & Vegetable Stew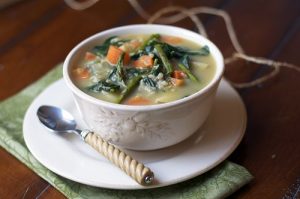 Yield: 8-10 servings
Prep: 10 minutes
Cook: 45 minutes
Time: 55 minutes
Ingredients
2 tbsp olive oil
1 yellow onion (chopped)
3 large leeks (chopped)
6 cloves garlic (chopped)
2 cans (4 cups) chicken broth
2 large potatoes (chopped)
6 medium carrots (chopped)
2 tbsp parsley (minced)
1 tbsp black pepper
½ tbsp salt
2 tsp cayenne pepper
2 tsp cumin
½ lb asparagus
1 cup wild rice (cooked)
½ lb spinach
1-2 cups non-fat milk
Instructions
In a large pot over medium-high heat, sauté the onions, leeks and garlic in the 2 tbsp oil until slightly soft (about 5 minutes).
Add the 4 cups chicken broth to the pot along with the potatoes, carrots, parsley, salt, pepper, cayenne and cumin.
Bring the stew to a boil, then reduce to low and let simmer until potatoes are soft (about 30 minutes).
Add the asparagus and let the stew continue to cook for another 5 minutes.
Stir in the cooked wild rice, spinach and milk.
If desired, add cooked chicken before serving.
Recipe Notes
If you want a thicker soup, add a small amount of flour to the milk before adding it to the pot.