10. Turkey and Vegetable Stew with Biscuits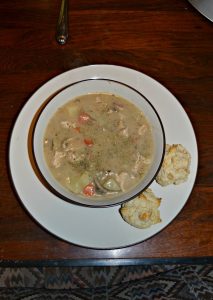 Yield: 8 servings
Prep: 15 minutes
Cook: 40 minutes
Total Time: 55 minutes
Ingredients
For the biscuits:
1½ c. flour
6 T. cold butter, cubed
½ c. nonfat milk
2 t. dried thyme
1 t. salt
For the stew:
2 T. olive oil
1 lb. skinless, boneless turkey bread, cut into 1 inch pieces
2 medium onions, chopped
2 c. carrots, diced
2 t. dried sage
1 T. herbs de provence
4 garlic cloves, minced
2 t. black pepper
1 t. paprika
1 (8 oz) package mushrooms, sliced
6 c. chicken broth
2 large potatoes, diced
Instructions
Preheat the oven to 375 degrees.
Place the flour in a medium bowl. Add the butter and using your fingers mix the butter with the flour until the mixture resembles pebbles.
Stir in the milk, thyme, and salt and mix until just combined.
Drop the dough by heaping tablespoons onto a foil lined baking sheet. Bake for 18-20 minutes. Remove from oven and cool.
Meanwhile, heat a Dutch oven over medium high heat. Add 1 tablespoon of oil to the pan. Add the turkey and cook for 5 minutes.
Add the remaining oil, onions, carrots, sage, herbs de provence, garlic, black pepper, paprika, and mushrooms. Cook for 5 minutes.
In a small bowl combine the flour and ½ cup of chicken stock. Mix until smooth. Add the remaining stock to the Dutch oven and bring to a boil. Stir in the flour and stock mixture.
Add potato and simmer for 20 minutes or until the stew has thickened.
Serve with biscuits.