18. Chicken and Vegetable Tortellini Stew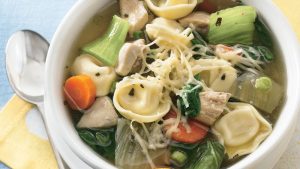 Yield: 6 servings
Prep: 35 minutes
Cook: 8 hours
Total Time: 8 hours 35 minutes
Ingredients
2 medium carrots, sliced (about 3/4 cup)
2 cloves garlic, finely chopped
1 lb boneless skinless chicken thighs, cut into 3/4-inch pieces
1 medium bulb fennel, chopped
1 can (19 oz) Progresso™ cannellini beans, drained, rinsed
1/2 teaspoon salt
1/4 teaspoon pepper
1 3/4 cups Progresso™ chicken broth (from 32-oz carton)
2 cups water
1 package (9 oz) refrigerated cheese-filled tortellini
1 cup firmly packed fresh baby spinach leaves
2 medium green onions, sliced (2 tablespoons)
1 teaspoon dried basil leaves
2 tablespoons shredded fresh Parmesan cheese
Instructions
In 3 1/2- to 4-quart slow cooker, layer carrots, garlic, chicken, fennel and beans. Sprinkle with salt and pepper. Pour broth and water over top. Stir to combine.
Cover; cook on Low heat setting 6 to 8 hours. About 20 minutes before serving, stir tortellini, spinach, onions and basil into chicken mixture. Increase heat setting to High.
Cover; cook 15 to 20 minutes or until tortellini are tender. Sprinkle individual servings with Parmesan cheese.
Recipe Notes
Use one cup of sliced celery in place of the fennel.
To trim prep time, use washed baby spinach leaves. Select the small quantity needed for this stew from the grocery store salad bar.
19. Simple Mediterranean Vegetable Stew
Ingredients
1 teaspoon olive oil
4 small zucchini (about 1 1/4 pounds), ends trimmed, diced into 1/4 inch cubes
1 small eggplant (about 1 pound), ends trimmed, diced into 1/4 inch cubes
1 cup grape tomatoes, halved
Pinch black pepper
2 teaspoons balsamic vinegar
Instructions
Place the oil in a nonstick sauté pan, and warm over medium heat. Add the zucchini and eggplant, and cook for 3 minutes, stirring often.
Add the tomatoes and the black pepper, then cook 2 minutes.
Add the vinegar, stir to combine, and remove from heat.
Serve warm.