1. Buffalo Chicken Pizza Sticks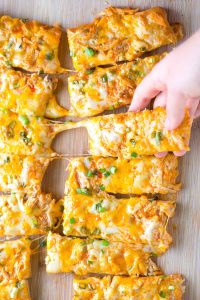 Ingredients
1 (13.8 ounce) roll Pillsbury Classic Pizza Crust or 12 ounces refrigerated pizza dough
3/4 cup buffalo wing sauce, see our homemade buffalo sauce recipe
2 cups shredded cooked chicken, see our tender shredded chicken recipe
4 ounces cheddar cheese, coarsely grated (about 1 cup)
4 ounces mozzarella cheese, coarsely grated (about 1 cup)
2 green onions, thinly sliced
Instruction
PREPARE CRUST :
Heat oven to 400 degrees F . Spray a baking sheet (with sides) with nonstick cooking spray.
Form pizza dough into a 15-inch by 10-inch rectangle (this doesn't have to be exact, just close). Place dough onto the baking sheet and bake for 8 minutes.
MAKE BUFFALO CHICKEN :
While the pizza crust bakes, add buffalo wing sauce and shredded chicken to a saucepan over medium heat. Cook, stirring occasionally, 3 to 5 minutes or until thoroughly heated.
TO FINISH :
Spread the buffalo chicken over the pre-baked pizza crust then scatter the cheddar cheese, mozzarella cheese and half of the sliced green onions on top.
Bake the pizza 6 to 10 minutes until cheese has melted and starts to bubble. Scatter remaining sliced green onions on top. Then serve cut into 16 pizza sticks.