1. Paleo Pizza Crust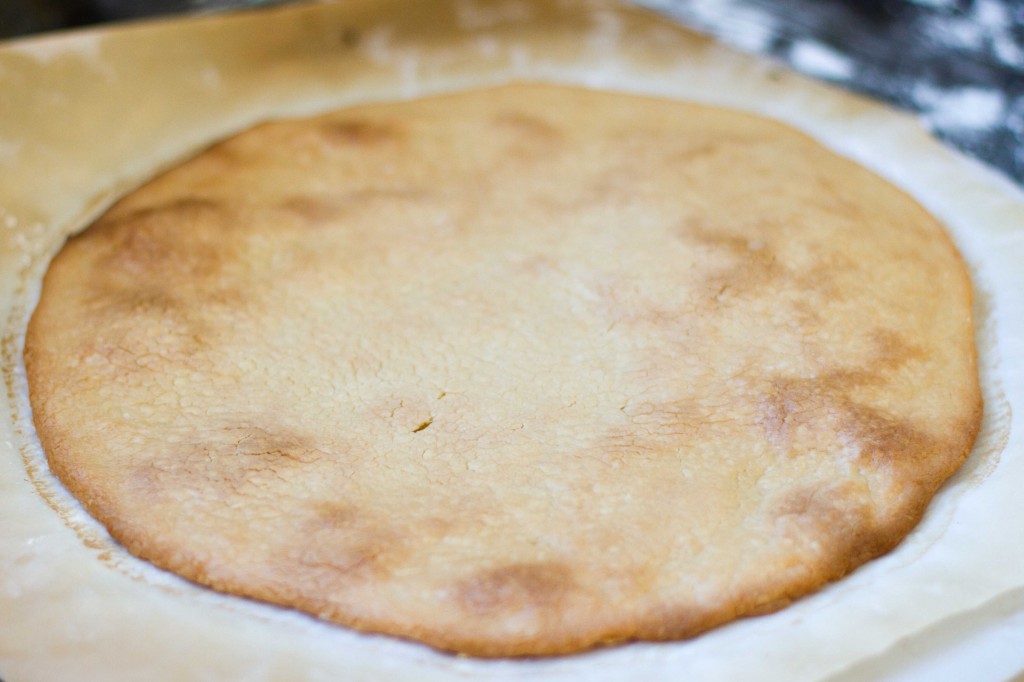 Ingredients
1 cup tapioca flour (starch) (plus more for rolling out dough)
1/3 cup + 2-3 tablespoons coconut flour, separated
1 teaspoon sea salt
1/2 cup olive oil
1/2 cup warm water
1 large egg, whisked
Instructions
Preheat oven to 450 degrees F
Combine the tapioca flour (you can substitute arrowroot flour/starch), salt and 1/3 cup coconut flour in a medium bowl.
Pour in oil and warm water and stir. Your mixture will look something like this.
Add the whisked egg and continue mixing until well combined.
Add two to three more tablespoons of coconut flour – one tablespoon at a time – until the mixture is a soft but somewhat sticky dough.
Turn out the dough onto a surface sprinkled with tapioca flour and knead it gently until it is in a manageable ball that does not stick to your hands.
Place the pizza dough ball onto a sheet of parchment paper. Use a tapioca floured rolling pin to carefully roll out the dough until it is fairly thin. You may end up using another few tablespoons of tapioca at this point. You will need it to keep the dough from being too sticky. But don't overwork the dough or add TOO much more tapioca or your dough will be too dense.
The recipe will give you a 12-14 inch pizza crust.
Place the rolled out dough (on its parchment paper) into the preheated oven onto a hot pizza stone or sheet pan. I used a pizza stone that was left in the oven while it was heating up. You may have different results if you put it on a sheet pan or with the paper directly on the oven rack.
Bake for 12-15 minutes depending on how "done" the crust should be before putting on toppings. Here's what it looked like after 12 minutes on the pizza stone.
The paleo pizza crust after 12 minutes is still pliable.
2. No-Knead, No-Rise Pizza Dough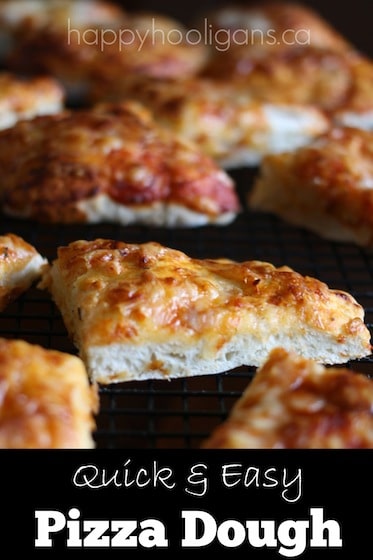 Ingredients
1  

pkg dry active yeast

(equivalent of  8g or .25 ounces or 2.25 tsp)

1

tsp

white sugar

1

cup

warm water

110 degrees F

2.5

cups

bread flour

we use all-purpose flour

2

tbsp

olive oil

1

tsp

salt
Instructions
Pre-heat oven to 450 degrees.
In large bowl, stir yeast and sugar in the warm water and let it sit for 5-10 minutes until it looks creamy and frothy.
Add flour, salt and oil, and stir until well mixed.(Will be loose and messy looking).
Let it rest for 5 minutes.
Turn out on to a lightly floured surface and roll or pat into one 12″ crust or 4 individual crusts.
Transfer to a pizza stone or a lightly oiled pizza pan.
Spread pizza sauce over crust.
Top with a handful of mozzarella cheese and various other pizza toppings
Bake at 450 for 15-20 minutes (large pizza) or 10-15 minutes (smaller pizzas).