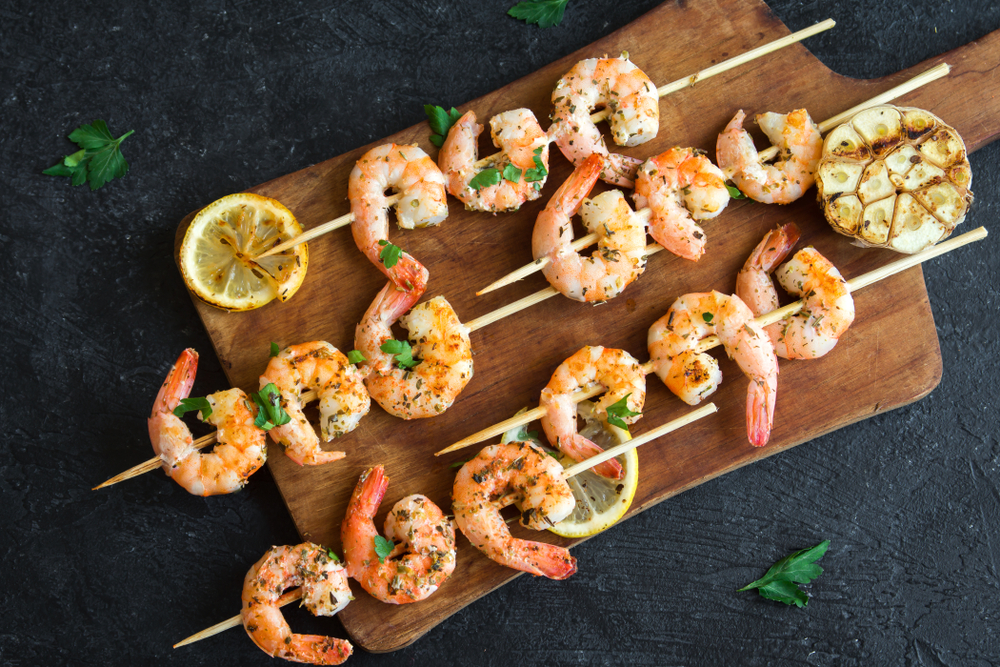 One of the most consumed seafood in the world, shrimp makes almost everyone drool, whether it's plainly served (steamed) or roasted in garlic butter. Taste aside, they are rich in nutrients like phosphorus, copper, iron, and zinc. So, let's get you those awesome benefits as we give you three quick and easy shrimp recipes.
1. Shrimp and Fennel Risotto
Flavour and aroma–two of the most important elements in a buttery heap of shrimp and fennel risotto! This hearty recipe will never bore you, even after making it a staple during weeknights. 
Items needed:
1 pound large shrimp, peeled and deveined

Dry white wine or white wine vinegar

1 onion, chopped

1/2 stick unsalted butter

1 fennel bulb, chopped

2 1/2 cups Arborio rice

7 cups chicken broth

3 tbsp fennel fronds, chopped

Salt and pepper to taste
Directions:
In a large saucepan over medium heat, melt the butter.

Add fennel and onion. Cook until the vegetables are soft and aromatic.

Stir in the rice until everything is thoroughly mixed. Toss in the wine, salt, and pepper in the saucepan. Stir once more until everything is completely mixed and the wine has dried up.

Add broth. Bring the mixture to a boil, then stir regularly until the rice is tender.

Add the raw shrimps, cook, and stir well until they turn opaque.

Lower the heat and, if desired, add the remaining butter.

Transfer to a bowl and garnish with the fennel fronds.
2. Shrimp and broccoli stir fry
Nothing screams 'quick and easy' other than a stir fry. They make the perfect companion as you play or bet on your favourite sports team during a TV dinner. With its versatile nature, you will never go wrong with this stir fry. 
Items needed:
1 tablespoon of olive oil

1 green onion

1 ½ pound of shrimp

⅓ cup of soy sauce

2 tablespoons of oyster sauce

1 tablespoon of brown sugar

2 cloves of garlic

Sesame oil 

1 teaspoon of cornstarch

20 ounces of broccoli
Directions:
In a mixing bowl, whisk sauces, dry ingredients, and garlic together. Set aside. 

Over medium heat, prepare olive oil on a large pan or wok. Once the oil is hot, add the shrimp and toss until cooked through. Add the broccoli flowers and cook until tender. 

Pour the sauce mixture over the shrimp and broccoli and continue stirring until the sauce starts to thicken. 

Garnish with green onion slices and serve.
3. Shrimp tacos
If it's simple and fun you are after, this shrimp taco recipe will surely be a favourite in your cookbook. 
Items needed: 
Corn tortillas or thin bread of your choice. 

1 ½  pound of fresh shrimp, skinned. 

2 cloves of garlic

2 cups of coleslaw salad (homemade or pre-mixed)

Salt and pepper to taste

Taco spice mix

3 tomatoes, diced. 
Directions:
Warm-up tortillas on an ungreased saucepan for a few seconds on each side or until slightly crispy. 

Cook shrimp together with taco spice seasoning and garlic until pink and cooked through

Place coleslaw mix and tomatoes along a tortilla's diameter. Repeat for each serving. 

Place cooked shrimp on top and sprinkle with salt or pepper to taste. Serve hot as you

play or bet

on who among your friends and family will want seconds!