1. Simple Vegetable Stew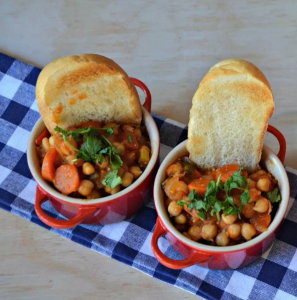 Ingredients
1 15 onz can of chickpeas, drain and rinse.
1/2 cup mince onion
1/2 cup mince red bell pepper
1/2 cup chopped celery
3 medium carrots cut in rounds
1/4 cup La Morena Chipotle Sauce
2 tablespoons ketchup
1/2 cup water
1 teaspoon tomato paste
salt and pepper to taste.
1 teaspoon olive oil
1 tomato chopped
1/2 cup cilantro, chopped
Instruction
In a heavy bottom pan heat to medium heat, add oil, onions,tomato and bell pepper, cook for 3 minutes, add the rest of the ingredients including the chipotle sauce, ketchup, water, and tomato paste, low the heat cover and cook for 10 minutes.
Once ready add salt and pepper to taste, cilantro and let it cook for 3 more minutes, in the meantime toast some bread, I personally love bolillo bread, you can find this bread in latino specialty stores, but you can use any one of your preference.
Also if you like a lot of spice in your food, you can perfectly use the entire can of chipotle sauce.