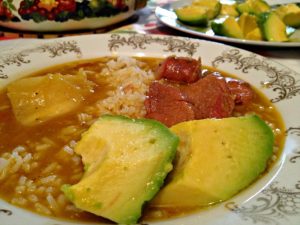 Yield: 6 servings
Prep: 15minutes
Cook: 60 minutes
Total Time: 1 hour 15 minutes
Ingredients
1 whole chicken, cut into pieces
2 smoked pork chops, boneless and chopped
1 fresh pork chop, boneless and chopped
½ pound longaniza (Dominican sausage)
½ tablespoon dried oregano
1 tablespoon salt
1 tablespoon Adobo seasoning
1 can tomato sauce
2 green plantains, peeled and cut into 1″ pieces
1 pound yucca, peeled and cut into 1″ pieces
1 small butternut squash, peeled and cut into 1″ pieces
1 large carrot, peeled and cut into 1″ pieces
handful fresh cilantro, chopped
1 chicken bouillon cube
10 cups water
3 tablespoons olive oil
1 lime, juiced
Instructions
Season the chicken, pork chops, and sausage with oregano, salt, and adobo.
In a large stockpot over medium heat, sear chicken on all sides, add chopped pork chops and sausage and cook halfway through. Add tomato sauce and cook for 10 minutes.
Add the rest of the ingredients except lime juice and olive oil. Cook until squash is tender and then remove squash and carrot pieces. Blend with some of the same liquid and add that puree back into the pot. Stir.
Simmer for 15 more minutes and finish seasoning with lime juice and olive oil. Serve with white rice and avocado slices.